Sweaterly is a patent pending detachable garment protector that secures to the neckline via magnets, preventing makeup transfer stains as you get dressed! It's washable, reusable and works on a variety of neckline shapes and sizes.
How to use
1: Open to separate the magnets. 2: Fold one end over the inside, and one end over the outside of the front of your garment's neckline. Press both ends together so the magnets snap in place. 3: With your Sweaterly attached, pull the garment over your head.
How it works
Sweaterly is safe on all fabric types and secures to the neckline without causing pilling, pulling, poking, or stretching. It works on a variety of neckline sizes and shapes, including blouses, turtlenecks and sweaters.
A variety of styles
Testimonials
I am so excited about this! It's like a saving grace.

Jessica
Everyone should have one in their closet!

Athena
Brilliant product! Why didn't anyone think of this before? 

Joy
New Products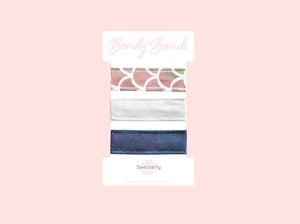 Bendy-Bands
A flexible and convertible hair cuff! Four ways to wear: ponytail cuff, rolled or flat cuff (perfect for braids), or as a barrette!